What We Do
Doctors used to depend on paper records. Now most use electronic record keeping systems to track and access their patients' medical histories. The challenge was that their information systems were largely decentralized and employed different technology and platforms. Thousands of information systems across the province contained billions of records that could not be shared or easily accessed when clinicians needed information gathered from other practitioners to care for their patients.
---
At eHealth Ontario we've taken on this challenge. We've built an electronic health record system with networks to connect health organizations and sole practitioners across the province and repositories which securely store billions of records, all anchored by solid security and identity management programs.
Now health care providers are quickly accessing and sharing results of lab tests and diagnostic imaging exams. Emergency room clinicians can check a database to make sure a patient won't have an allergic reaction to a medication. Patients are receiving better follow up care when they leave a hospital, since their discharge summaries are shared instantly with their entire health care teams. And, patients are being transitioned faster to other providers in their communities.
Having rapid access to complete, up-to-date and accurate information puts clinicians in a better position to provide the best possible care.
We work closely with health care professionals, hospitals, community-based providers, Local Health Integration Networks (LHINs), Canada Health Infoway (CHI) and vendors to develop the best solutions for Ontarians.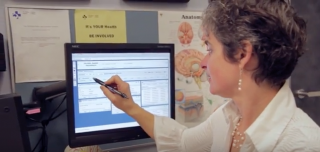 eHealth Ontario – patient information anytime, anywhere and when it matters most

Play

Watch Video
What does eHealth Ontario do?

Play

Watch Video